Big News at BN.com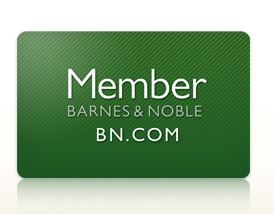 I stopped at my local Barnes & Noble today, on my annual post-Christmas pilgrimage to pick up a desk calendar and Christmas cards on clearance. (Hey, I'm a mom on a budget.) At the checkout, the cashier reminded me that it's almost time to renew my annual B&N membership.
"And we've made one small change to the program," she said, handing me my receipt and a slip of paper entitled New Member Program Benefits.
Wow. Here's the small change: Barnes & Noble is no longer offering members a 20% discount on all adult hardcover books. We still get 40% off hardcover bestsellers, 10% on all other B&N merchandise, free shipping, and other goodies. But the traditional 20% adult hardcover discount has been cut in half.
And they've added one new benefit, spelled out in boldface type at the top of the slip: a $25 discount on a Nook Color.
"In other words," I said, surprised that I hadn't heard about this, "Barnes & Noble would prefer that its customers buy Nook books instead of hardcover books."
"Well …" The cashier glanced nervously over her shoulder at the manager and lowered her voice. "Yeah. Pretty much."
Maybe it's just me, but this "small change" seems like big news. The nation's largest chain of brick-and-mortar bookstores is encouraging its customers–its most loyal, frequent customers–to buy more ebooks and fewer hardcovers.
In all the talk about the demise of physical books, most pundits have foretold that mass-market paperbacks would be the first to go. Readers of popular fiction are happily going digital by the millions, and MMPB sales have been cut in half, according to GalleyCat. (Notice the ebook sales in that same chart? Up by 100.9%.) Hardcovers, the conventional wisdom goes, will survive because they appeal to a different audience.
Now B&N is giving that audience a subtle nudge in the digital direction. A 20% discount made it worthwhile to get in my car and drive to B&N to pick up the new hardcover I just read about in People magazine. But a 10% discount? Meh. Might as well stay home and buy the e-book. And if the ebook edition isn't available yet? Maybe I'll just wait.
If more and more B&N customers start making similar decisions, what will it mean for hardcover sales? And what will it mean for B&N's bottom line? Mass-market paperbacks are an endangered species. If hardcovers also begin to lose their appeal, while ebooks continue to surge … why would B&N need brick-and-mortar stores at all?