Get Ready to Run Wild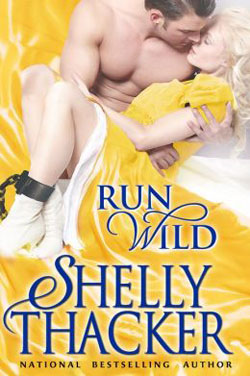 A sexy pair of scoundrels run from the law—shackled together by an unbreakable iron chain.
RUN WILD, a sizzling historical romance set in Georgian England, is now available at ebook retailers worldwide. Find out why New York Times bestselling author Lisa Kleypas says, "RUN WILD is a thrilling romantic adventure, exciting and sensual. Shelly Thacker has a unique and dazzling talent!" Grab your copy today at 
Amazon
,
B&N
, 
iTunes
or 
Kobo
. Also available in paperback from
Amazon
.
Nicholas Brogan is an ex-pirate with years of sin branded on his soul. Samantha Delafield is a high-born lady turned devious thief. Captured by His Majesty's marshals, the two are on their way to the gallows until they stage a daring escape and run for their lives—shackled together by an iron chain that quickly proves unbreakable.
Forced to work together to survive, the outlaws find themselves locked in a battle of fierce wills and fiery passions. From a remote forest in Staffordshire to a secret hideout in London's most elegant square, they must learn to trust one another as they face old enemies, dark secrets… and discover a love more priceless than any gem they've ever stolen.
Here's an excerpt: Stretched out on the forest floor, with his disheveled black hair and glittering green eyes and bloodied shoulder, he looked like he belonged here in this wild place. Fit in with the other untamed things. A wounded predator. Dark and fierce… and capable of all sorts of unpredictable behavior. Keep reading