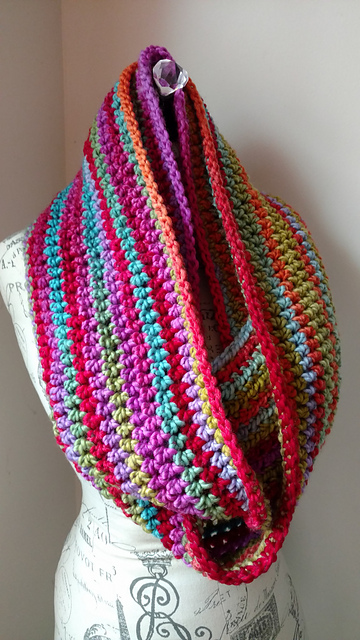 On a trip to visit family in rural northern Michigan, I finished my WIP (work-in-progress) and had nothing else in my luggage to knit or crochet. This is why one should always bring multiple projects on long car trips!
The only place within reasonable driving distance where I could buy yarn was a big-box craft store. I bought a couple of skeins of bulky, colorful acrylic and a pretty crochet hook and just started stitching.
To my surprise, I ended up creating an infinity cowl that I really love. I named it after one of the long country roads we traveled during our stay. The cowl is made in the round, seamlessly, instead of back-and-forth in rows. You just join the two ends of your foundation chain with a slip-stitch, then follow the pattern round-and-round.
This cowl is super-quick and easy because the yarn does all the colorwork for you. It might be fun to try this pattern with one of the "mega-cake" self-striping yarns that are so popular now. Just pick a hook size that's appropriate for your yarn weight and off you go.
Sizes
OSFA (sample shown is about 6″ X 38″)
Materials
2 skeins self-striping yarn (sample was crocheted in 286 yds of Yarn Bee First Love, colorway #518 Brights)
Size L (8 mm) crochet hook (or size to match your chosen yarn)
Gauge
Completely up to you!
Instructions
Chain 170
Join the loop on your hook to the first loop of the foundation chain with a slip-stitch to work in the round
Round 1: sc in every chain around
Round 2: hdc in every sc around
Rounds 3-13: hdc in every hdc around
Round 14: sc in every hdc around
Fasten off and weave in ends. I used almost every inch of the 2 skeins I bought. Make sure you leave enough of a tail to weave in after completing Round 14. Enjoy!
Copyright © 2017 by Shelly Thacker. All rights reserved. For personal use only. Please do not re-distribute this pattern or sell items made from it, as this violates U.S. and international copyright laws.