His Scottish Bride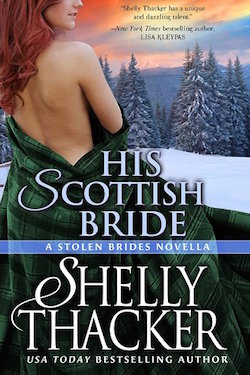 A Holiday Novella: Stolen Brides Series
Stranded together by a winter storm, a French knight and a fiery Scottish lass discover an unexpected, forbidden love.
Lady Aileen MacFarland has already lost one husband in battle and doesn't intend to become a warrior's bride again. Especially not a warrior like Sir Henri d'Amboise. During his visit to the Highlands, the handsome Frenchman has acquired a reputation for his valor, his taste for adventure—and his way with the ladies. Fiercely independent Aileen has no interest in the roguish knight. For the good of her family, her father has already promised her in marriage to a wealthy laird.
But when a holiday hunting expedition is interrupted by a winter storm, Aileen and Henri find themselves plunged into a dangerous adventure, stranded together in a secluded Highland croft…and swept away by a passion that might burn all of Aileen's plans to cinders.
An all-new novella of 25,000 words (about 100 pages), never before published.
On sale May 22, 2018
Available for pre-order in 51 countries worldwide exclusively at iBooks

Get to know iBooks and discover one of the world's best ebook stores. Start reading on your iPhone, iPad or Mac with this step-by-step iBooks FAQ. If you don't own an Apple device, you can purchase and read books from iBooks on your computer or laptop by downloading iTunes for Windows for free.