His Forbidden Touch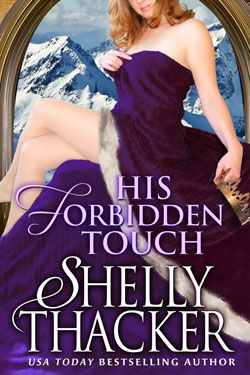 Book Two: Stolen Brides Series
She may never reach her royal wedding if she can't resist the rugged mercenary assigned to protect her.
Disgraced ex-knight Royce Saint-Michel was banished from his homeland because of an impulsive act that cost him all he held dear. Now, he has the chance to reclaim his birthright–if he agrees to protect a princess on a journey that may prove deadly to them both.
Royce must escort the lovely Princess Ciara across a war-torn land to her royal wedding… and ensure that she arrives untouched. The two set off alone on a treacherous journey through snowy mountain passes, but forbidden desire soon proves even more dangerous than the assassins on their trail. With the fate of two kingdoms hanging in the balance, will Royce and Ciara do as honor and duty demand…or surrender to the longing in their hearts?
This Author's Preferred Edition ebook includes exclusive bonus content: "The Making of HIS FORBIDDEN TOUCH: The Story Behind the Story."