Meet Me in New York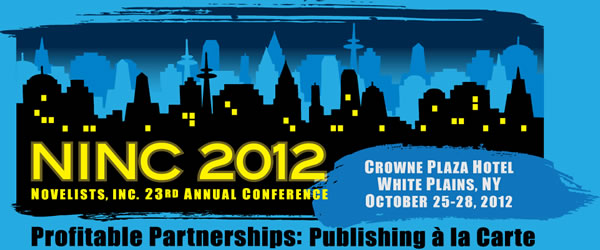 Back in my trad-pub days, I was an active member of several writers' organizations, including Romance Writers of America, the Authors Guild, and Novelists Inc. Now that I'm an indie author, I've left some of those groups behind because they seem out of touch, as if they belong to another era.
Today, I belong to only one writers' organization, the one that has embraced the digital revolution and indie authors with unmatched enthusiasm: Novelists Inc.
If you're a successful author of popular fiction (mystery, romance, SF/F, horror, thrillers, etc.) I encourage you to consider joining Ninc. Founded in 1989, Ninc is the only organization devoted exclusively to the needs of multi-published novelists. Today, that includes helping indie authors like you and me learn how to boost our sales and take our careers to the next level.
Here are just a few of the special guests you'll meet at NINC 2012 this October:
Barbara Freethy, NYT bestselling author
Jen Talty, Cool Gus Publishing
Julia Coblentz, Barnes & Noble
Larry Norton, InScribe
Patrick Brown, Goodreads
Thubten Comerford, social media expert
If you're interested in traditional publishing, you'll also have the chance to network with industry professionals like Donald Maass, Robert Gottlieb, Jane Dystel, and Jennifer Brehl, editorial director at William Morrow.
Ninc isn't for everyone. Take a look at their membership requirements and you'll see that authors need to reach a certain level of success before applying. But even if you haven't reached that level yet, you can still take part in the Ninc conference by signing up for First Word, a one-day pre-conference that's open to everyone.
Ninc's annual conference has become a hotspot for indie-author brainstorming and the best place to meet some of the top names in the ebook business. I just registered and booked my flight. I'll look forward to seeing you there.